Thank you for your interest in my little cattery. Feel free to contact me via email:

About us: My family consists of my husband, our two little children, me, Claudia Hensel, and my Coonies. We live in Germany near Munich. I have been interested in Maine Coons and in breeding cats for quite some time.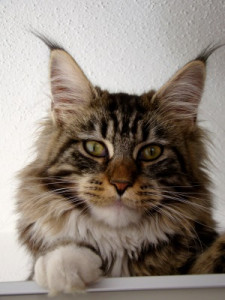 My breeding goal is to have friendly, kind and of course healthy Maine Coons. Health control includes testing all my breeding cats for HCM, PKD, PKdef., SMA, HD, leucosis, FIP and FIV. Needless to mention that I only feed healthy, high quality pet food.
My kitten usually leave their home at the age of 12 to 14 weeks. They get all their vaccinations and wormings, have a pedigree and always have a last check-up by my vet which includes a health certificate.
As all my cats are family members and beloved pets I wish the new home of my "babies" to be caring and aware that a cat is not a cuddly toy but a living beeing. I do all I can to turn my kitten into cute, trusting little pets and hope for new "parents" who do all the best for them in future, too.